Noticias
THE BIT-BOX SERVICE allows an adequate and reliable Predictive, Preventive and Corrective maintenance and the performance optimization of fans.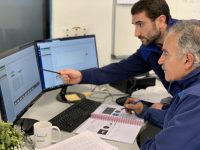 B3 FANTECH offers the BIT-BOX SERVICE of continuous monitoring for Condition Based Maintenance (CBM) applicable to rotating machinery and in particular to Industrial Fans.
By means of the Maintenance Based on the machine Condition, the fans are diagnosed detecting the changes or alterations in their initial stages through a selective alert system that allows to identify with precision which is the origin of those failures, avoiding not scheduled stops. Additionally, fan performance and efficiency can be optimized, monitoring how the fans are used. Energy saving proposal is addressed to the customer with the necessary fan upgrades and adjustments.